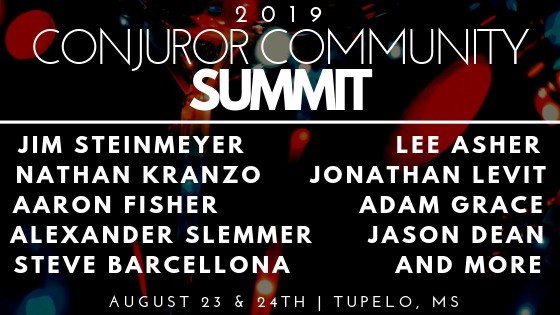 The 2019 Conjuror Community Summit promises to be the very best magic gathering you've ever attended!  With an amazing lineup of magic stars and underground artists, this intimate workshop style convention will feature the very best of what Conjuror Community offers!
Performers | Lectures | Workshops
JIM STEINMEYER
Jim Steinmeyer is an author, inventor, and designer of illusions and theatrical special effects for many famous magicians, including David Copperfield, Doug Henning, Siegfried and Roy, and Lance Burton.
LEE ASHER
Elite card magicians celebrate Lee's astonishing visual magic and unrivaled knowledge in the playing card world. He's also the most approachable expert you'll ever meet. At CC Summit 2019, he'll share his modern classics, and reveal secret miracles he's never shared before!
JONATHAN LEVIT
Jonathan Levit is an magician, actor, television host and theatrical producer. He has appeared in movies and television series, and was the host of VH1's reality series, Celebracadabra. Jonathan is also a premier performer at The Magic Castle.
NATHAN KRANZO
Nathan Kranzo is everyone's favorite magician. He's a master creator and has a talent for mixing astonishing effects with practical methods. At Summit 2019, he'll reveal the tricks and tactics he uses to amaze elite clients. And show you how to transform simple methods—into miracles you love to perform!
See more special guests here!