Twister
March 20 @ 10:00 pm

-

11:00 pm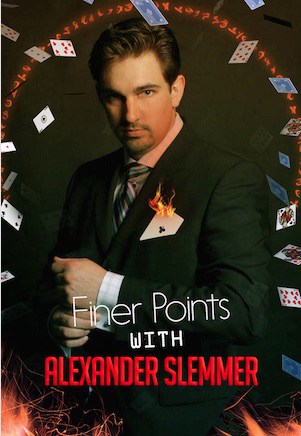 What is 'Twister'?
This week on Finer Points…
If you've ever seen the classic 'Twisting the Aces', you'll know there's nothing more impressive than watching cards visually and impossibly turn over—right before your eyes!
Or at least, that was what we THOUGHT. That was before we saw Twister...and trust us when we tell you, it's Twisting the Aces on STEROIDS.
What do we mean?
Imagine this…
In a pack of four face-down cards, the aces flip over and reveal themselves one by one. Pretty classic stuff so far—but it gets even better!
Imagine EACH of the four aces visually changes—without the hint of a 'funny move'—into completely different cards!
That would make for an incredible effect.
Now imagine that each of these four cards transforms BACK into the four aces.
Well, that would be nothing short of a MIRACLE.
But everyone knows only expert magicians (that have spent YEARS practicing sleight of hand until their knuckles bleed) can pull off effects like this, right?
That's what we thought too. And that's where we were WRONG again!
You see, the method behind this visual masterpiece of a trick is a closely-guarded secret in magic—but only because magicians don't want people knowing how EASY it is.  
And at this week's Finer Points event, Alex Slemmer is going to reveal EXACTLY how it's done. You'll discover that as long as you have a deck of cards—you can perform this effect.
PLUS: At this workshop, Alex is also going to share what will be your future 'go-to' four-of-a-kind production!
WARNING!
There's no getting around it…
When you try out this simple method—you WILL fool yourself. Don't be alarmed, and practice at your own risk!
Don't miss this one-time event! Join us for "Twister" hosted by master magician Alexander Slemmer and the Conjuror Community Team!
Where: Conjuror Community Live
When: March 20th @ 10:00 pm - 11:00 pm EST
Price: $20/ Advanced Tickets
(Note: Conjuror Community Members get to attend this event at no charge.)
Conjuror Community Members please login to see the registration button.
If you are not a Conjuror Community Member, you may purchase your ticket by clicking the button below:
Join the world's best magic club and get unlimited access to all our exclusive events. Learn how...