Second Annual Coin Magic Reboot
January 20 @ 4:00 pm

-

5:30 pm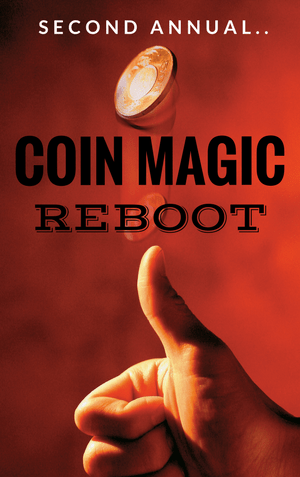 Note: This event will take place at a Special Day and Time - Saturday, January 20th at 4pm Eastern Time.
At Conjuror Community, we invite you to join your fellow members and the CC Team to make 2018 the very best year ever for your magic.
And we're not just saying that - we're going to help you make it happen!
This is your invitation to join us for our Second Annual Coin Magic Reboot.
And what IS a coin magic reboot? I'm SO glad you asked.
This is a special Live Event, designed to give you a special combination of two elements you will not find in any other coin training...
First, you'll discover a complete one coin routine, featuring amazing vanishes, re-appearances, teleportations and a knockout climax, so you have an entire magic show you can do at any time that uses a single ordinary coin!  
And if that were all, this would be an incredible training. But that's just the beginning…
This workshop will also serve as your perfect Introduction to Coin Magic.
You'll discover:
* The hidden secrets of building a visual coin magic routine with escalating surprises and tension - so you can perform coin magic that REALLY amazes your audiences every time!  
* The little known mysteries that make it easy to master the Classic Palm, including precisely why it's widely considered the most versatile move in the entire world of coin magic. After your Coin Magic Reboot, you'll know exactly what to do - and exactly how to do it - so you can move forward with new levels of confidence and success!
* The Ultimate Surprise Ending for any coin routine, so you're guaranteed to blow away any audience you meet, every time you perform!
And best of all, you'll discover exactly what you need to create a complete miracle any time, so you'll never have to say, "I don't have anything on me" again!  
About Our Special Guest Instructor...
For this very special workshop, we'll be joined by David Fillary. If you've connected with David on our CC Facebook Group (he goes by David Michael 'online'), then you already know he's an incredibly knowledgeable and helpful magician.
What you may NOT know is this: David is one of my FAVORITE magic coin magic teachers of all time.
David has a gift for making coin magic accessible - so you after the lesson, you really know you can DO the magic he's taught. Last year, David taught one of my favorite CC Live Events ever - and this year's Coin Magic Reboot promises to over-deliver again!
Don't miss this one-time event! Join us for our "Second Annual Coin Magic Reboot" hosted by David Fillary and the  Conjuror Community Team!
Where: Conjuror Community Live
When: January 20th @ 4:00 pm - 5:30 pm EST
Price: $20/ Advanced Tickets
(Note: Conjuror Community Members get to attend this event at no charge.)
Conjuror Community Members please
login
to see the registration button.
If you are not a Conjuror Community Member, you may purchase your ticket by clicking the button below:
BUY A TICKET
Join the world's best magic club and get unlimited access to all our exclusive events. Learn how...