Presentation Plays
December 20, 2017 @ 10:00 pm

-

11:00 pm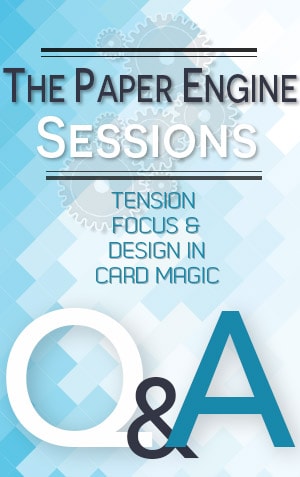 What is Paper Engine Presentation Plays?
In this Special Holiday Event, you'll discover 3 of the easiest, most entertaining card miracles in the Paper Engine!
And whether you're just starting out in magic, or you've been working with cards for years - you'll find amazing professional grade routines that you'll love to perform ANY time you have a pack of cards!
Tis the season to celebrate, so we're making this workshop an affair to remember. Get ready to discover:
*  The Omen - this effect is an all time favorite of Paper Engine readers all over the world, because it astounds audiences with everything a great trick needs: a lot of astonishing magic, a surprise ending you have to see to believe - and a demonic presentation that will leave your audiences absolutely POSSESSED!
* The Long and Winding Trick - This complete routine is perfect for formal close-up shows - or ANYTIME you want to make a powerful impression without using sleight-of-hand. This is the easiest effect in the Paper Engine - and it features modern updates and refinements that make it far more astonishing than it's ever been before!
Now that this effect is completely self-working, it's about to become your new favorite too!
* Don't Fear the Reaper - Discover an easy, astonishing and direct effect where four spectators each choose a different card - and all four match!
NOTE: This effect features a powerful 'utility switch' you'll want to start using for a wide variety of effects. It starts with a classic Vernon trick, turns it on it's head, and the result is a streamlined miracle you can use to amaze any audience under any conditions.
And if you like to perform standing and surrounded, you'll want to use it every time you perform!
And that's just the beginning of what you'll discover in this jam packed event. We'll also take your questions about ANY aspect of YOUR card magic.
So bring your deck and get ready to party! It's our favorite time of year - and at this edition of the Paper Engine Continues, we're going to go where no Magician has ever gone before!
Don't miss this one-time event! Join us for "The Paper Engine Continues: Presentation Plays" hosted by master magician Aaron Fisher and the Conjuror Community Team!
Where: Conjuror Community Live
When: December 20th @ 10 - 11 pm EST
Price: $20/ Advanced Tickets
(Note: Conjuror Community Members get to attend this event at no charge.)
Conjuror Community Members please
login
to see the registration button.
If you are not a Conjuror Community Member, you may purchase your ticket by clicking the button below:
BUY A TICKET
Join the world's best magic club and get unlimited access to all our exclusive events. Learn how...