Packet Party
February 13 @ 10:00 pm

-

11:00 pm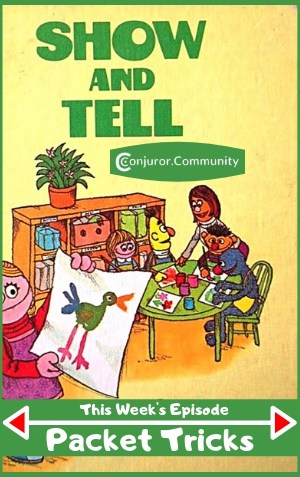 What is Packet Party?
At this Conjuror Community Live event, we wanted to try something new. Something exciting.
Something a little bit crazy...
This week, you're invited to an unmissable Conjuror Community Event...The Packet Party!
Packet tricks are not only some of the most iconic effects in magic, but some of the EASIEST. Since the 19th century, audiences all over the world have been fooled by the incredibly simple but deceptive '3 Card Monte', and packet tricks have only got more impressive—and more simple—since then!
But there are SO many packet tricks that it can actually be hard to decide which ones you need to learn, and which ones you really don't.
That's when we had a great idea…
We're asking the Members of the Conjuror Community Club to show us their FAVORITE packet tricks—tricks that they know should be immediate additions to everyone's repertoire.
But rather than just TELLING us your favorite packet tricks, we're giving you the chance to SHOW them to us.
That's right. We're holding a special 'Packet Party' Live Event where ALL of you are invited to join us on-screen and share your 'go-to' packet trick.
When was the last time you sat down with a group of magicians and just jammed out? This week at Packet Party, it's happening!
After you register to attend in the usual spot below, just CLICK HERE to secure your on-screen spot!
If you've never come on-screen with us before, maybe it's because you didn't want to be the 'only one' to perform.
Truth be told, in the past, we've only had time for a few select people on the show in one event. That's about to change…
In this event, anyone and everyone is welcome on-screen. If you have a packet trick to share...we want to see it!
What does that mean?
It means EVERYONE is invited! There's absolutely zero pressure—and you if you've got a packet trick you love, there's no reason for you NOT to sign-up and jump on in. The water is fine!!!
Maybe you've wanted to perform on-screen but just could never think of a trick to share...
This time around, you barely need to come up with anything! We've already given you the topic...so if you know a cool packet trick you think other people might like, sign on up!
But hey, even if you don't have any packet tricks you want to show off—this event is still going to be a heck of a lot of fun to watch.
These packet tricks really can be ANYTHING you like...from the wacky to the 'WOW'—we want to see them all!  
We've never tried something like this before, so we're excited to see what happens. This promises to be an event like no other!
NOTE: After you register to attend below, CLICK HERE to request a performance slot. Sign up and you will be on the show unless otherwise notified!
Don't miss this one-time event! Join us for "Packet Party" hosted by the Conjuror Community Team!
Where: Conjuror Community Live
When:February 13th, 2019 @ 10:00 pm - 11:00 pm EST
(Note: Conjuror Community Members get to attend this event at no charge.)
Conjuror Community Members please login to see the registration button.