Mini Card Rise
December 5, 2018 @ 10:00 pm

-

11:00 pm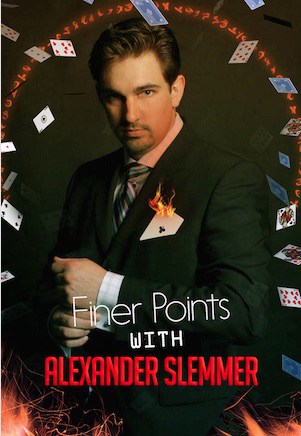 What is 'Mini-Card Rise'?
When you all your tricks are top-flight miracles, it's hard for a new trick to compete. That's why Alex Slemmer so rarely adds new effects to his world-class repertoire.
When you see the Mini Card Rise on the new edition of Finer Points, I think you'll agree—Alex Slemmer has done it again! This time, you'll discover an easy-to-do miracle that packs the punch of a world-class stage illusion—all in a close-up trick you can perform with ease!
This effect was created by master magician Martin Lewis—and we think it's as close to perfect as a trick can get!
Imagine this effect: A miniature deck of cards is introduced. Two cards are selected and returned to the pack.
Next, the deck is put back in the box and then trapped beneath a drinking glass.
Even though the deck is totally isolated, the two selections somehow rise, magically and mysteriously, from the pack.
The 'rising cards' is one of the oldest, most powerful effects in magic. And even if you've seen it before, you're in for a serious treat. In fact, we think that this modern approach will simply blow you away.
The miniature deck and the glass combine to give this effect a rare feel of elegance and style. The trick ends clean, so at the close, everything can be examined by your audience. In fact, we believe this singular routine will become a major feature of your professional close-up show.
And as if all that weren't enough, it's easy-to-do too!
Alex Slemmer has loved this trick for decades, and now, in this Special Conjuror Community Holiday Event, he's going to share the entire effect and method with our members. You'll discover every step, touch, and secret detail you need to make this trick your own—so you can perform your new miracle anytime with complete confidence.  
So whether you're looking for the perfect new closing effect for your formal show, or you simply love to be astonished by incredible magic—the Mini-Card Rise is one miracle you'll want to see first hand.
Don't miss this one-time event! Join us for "Mini Card Rise" hosted by master magician Alexander Slemmer and the Conjuror Community Team!
Where: Conjuror Community Live
When: December 5th @ 10:00 pm - 11:00 pm EST
Price: $20/ Advanced Tickets
(Note: Conjuror Community Members get to attend this event at no charge.)
Conjuror Community Members please login to see the registration button.
If you are not a Conjuror Community Member, you may purchase your ticket by clicking the button below:
Join the world's best magic club and get unlimited access to all our exclusive events. Learn how...