Living Room Lecture
December 6, 2017 @ 10:00 pm

-

11:00 pm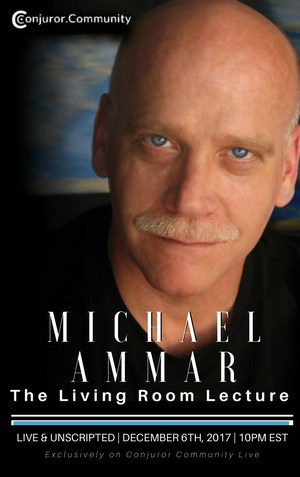 At Conjuror Community our mission is to provide the most fun, effective learning environment that's ever been created for magicians. Now, we're proud to announce your chance to learn from one of the greatest magicians alive in a more intimate, astonishing way than ever before.  
If you've seen Michael Ammar lecture, you already know why he's considered the greatest teacher in magic. And if you've seen him perform live or on television, you already know he's one of the most astonishing magicians alive.
Now, Michael is coming to Conjuror Community to reveal NEW secrets you've never seen before!  
This is your chance to attend an Intimate Get-Together at Michael's house, where you'll discover never before revealed secrets, routines and a level of unfiltered access that you can only get when you visit with a true master in the privacy of his own home!    
---
Conjuror Community Presents Your Invitation to….
AMMAR: THE LIVING ROOM LECTURE
The Legendary Ambitious Card
You may have seen the Ambitious Card Before, and you may even performed it yourself, but you've never seen it like this.
In this unique and unforgettable event, you'll take a trip to Michael Ammar's inner sanctum.
There, you'll join Michael and the CC Team as Michael reveals,  for the first time, his uniquely easy-to-do, astonishing and professional approach to the Legendary Ambitious Card.  
For the First Time Ever: The Truth Behind The Legend Revealed…
Many magicians believe they know the story of how Dai Vernon, as a young man, fooled the Great Houdini.
Now, in this unscripted, candid living room 'card party', Michael Ammar will reveal for the first time the full story of how Dai Vernon ACTUALLY did it.
And if you think you know the story, hold onto your hat there's A LOT more to it than you've heard...until now.
And the secret you're about to discover will allow you to unleash astonishingly easy and magical miracles for every audience you meet.  
Michael Ammar is one of the only magicians in the world today who know one of the professor's most cherished secrets. And over the last 20 years, Michael has used that secret to evolve and easy-to-do, comprehensive and practical Ambitious Card Routine that will likely become your new 'go-to' method whenever you perform.
This routine cuts through all the extra moves, nonsense and filler - and gets right to the miracles.
And when you start performing this amazing streamlined professional routine yourself, you'll quickly see why the best magicians in the world consider the Ambitious Card to be the best card trick ever devised!  
You'll discover:
* The Biggest Ambitious Card Secret in History and the surprising, empowering way in can supercharge every performance you give.
* The Easiest Professional Grade Ambitious Card EVER developed - A professional quality routine that's easy enough for anyone to master fast - and magical enough for Michael to use on TV. It's really that direct and astonishing!
* Complete Customization and Personalization - so no matter how much skill or experience you have, you'll leave this event with a routine that starts and ends perfectly clean  - so you can amaze with complete confidence!  
* Ammar Like You've Never Seen Him Before - your Live Questions and Candid Insights from the master himself. You'll discover more from this one Live Session that can excite and empower you than you will watching a lifetime of  DVDs!
You'll discover everything you need to create the ACR of your dreams...and plug it directly = into your show!
And my friends, that's just the beginning!
Don't miss this one-time event! Join us for "The Ammar Living Room Lecture" hosted by master magician Michael Ammar and the Conjuror Community Team!
Where: Conjuror Community Live
When: December 6th @ 10:00 pm - 11:00 pm EST