Law of Attraction
November 22, 2017 @ 10:00 pm

-

11:00 pm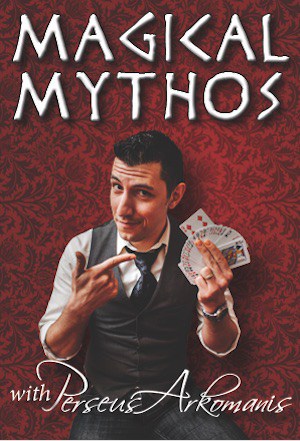 For over a hundred years, few effects have the power to mystify and astonish like the Aerial Card Stab. Now, you'll discover a visual, impromptu method that you can use to amaze any audience you meet.
And here's the best part: This card stab uses no gaffs or gimmicks, requires no preparation -  and it doesn't even leave your cards splayed out on the floor.
This is direct visual magic at it's finest.
And because you'll be learning this effect from Modern Presentation Master Perseus Arkomanis, you won't just get the trick and the training.
Perseus will also arm you with a powerful presentation you can use to make sure this effect connects with your audience, not just visually, but emotionally as well!
Imagine this effect…
You spectator is invited to experience a demonstration of the Law of Attraction. She freely selects ANY playing card from a shuffled deck, and signs her name upon the face.
The card is placed back in the deck and the cards are completely shuffled - the selection is completely lost!
Now you hold the sharpie in one hand and the deck in the other -  several inches up off the table.
You toss the sharpie through the falling cards as they flutter to the table.
As the pen flies through the storm of falling cards, the Law of Attraction causes the signed selection to become trapped in the pen clip of the sharpie!
Imagine your spectator's eyes as they see it happen. It's truly astonishing.
It's visual. It's amazing. And for a card stabbing, this part it truly unique: this trick doesn't harm a single card!
And that's a very good thing. Because when you see the Law of Attraction, you'll want to perform it over and over again!
And that's not all. As a Special Bonus, we'll also be leading a short, focused, intensive workshop during this event, designed for ANYONE who's ever wanted to learn how to 'palm' cards!
That's means you!
We'll show you, step-by-step, everything you need to know to add the most valuable tool in card magic to your working repertoire FAST!
Don't miss this one-time event! Join us for "Law of Attraction" hosted by master magician Perseus Arkomanis and the Conjuror Community Team!
Where: Conjuror Community Live
When: November 22nd @ 10:00 pm - 11:00 pm EST
Price: $20/ Advanced Tickets
(Note: Conjuror Community Members get to attend this event at no charge.)
Conjuror Community Members please
login
to see the registration button.
If you are not a Conjuror Community Member, you may purchase your ticket by clicking the button below:
BUY A TICKET
Join the world's best magic club and get unlimited access to all our exclusive events. Learn how...