Our Favorite Tricks
October 25, 2017 @ 10:00 pm

-

11:00 pm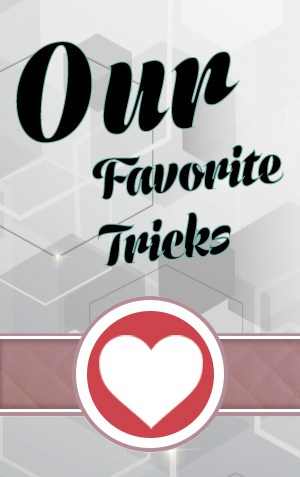 Ask our members and they'll tell you Our Favorite Tricks has quickly become one of their favorite CC live events. Why?
Because in Our Favorite Tricks, you'll discover not just one, but three great tricks from different members of our team that you'll be thrilled to share with your audiences.
Our favorite Tricks is so popular with our members because there's truly something for everyone!
In this edition, we've got an action packed lineup you simply won't want to miss. At this incredible event, you'll discover:
* Color Changing Deck - this is our hands down favorite version of one of the most visually astonishing card effects your audience will ever see.
This little known routine by Professor Dai Vernon shows you beyond a doubt why Vernon is STILL considered the greatest magician of the 20th Century.
If you've been looking for the perfect close-up closer, your quest is now complete! You're about to discover a miracle routine that features 4 surprising effects and a showstopping finish, and best of all…
...it's completely self-working!
So if you've been thinking you have to be a 'move monkey' to perform the greatest effects of all time, you'll be thrilled to discover that just ain't so! This is the PERFECT trick to add to your repertoire!
* Female - When Steve Barcellona told us about this one, we were absolutely floored, and just wait till you see YOUR audience reactions to this one! Steve knows more about magic as pure entertainment than just about anyone, and this is his 'go to' favorite whenever he wants to create a full blown miracle!  
When you see Female, you'll love the method just as much as the effect. It's so diabolical and easy-to-do, your audiences will NEVER see it coming.
* Storied Sorcery - If you've never seen our esteemed colleague Rolando Santos before, you are in for a serious treat!
Rolando knows more about creating powerful, compelling presentations than any magician we know. And in this event, you'll discover an incredible, easy-to-do trick with a premise that's guaranteed to 'hook' your audience like nobody's business.
So now you have 3 great reasons to join us for this edition of Our Favorite Tricks. Join us, and see for yourself what all the excitement is REALLY about!
Don't miss this one-time event! Join us for "Our Favorite Tricks " hosted by the Conjuror Community Team!
Where: Conjuror Community Live
When: October 25th @ 10:00 pm - 11:00 pm EST
Price: $20/ Advanced Tickets
(Note: Conjuror Community Members get to attend this event at no charge.)
Conjuror Community Members please
login
to see the registration button.
If you are not a Conjuror Community Member, you may purchase your ticket by clicking the button below:
BUY A TICKET
Join the world's best magic club and get unlimited access to all our exclusive events. Learn how...