Cards Through Table
October 3, 2018 @ 10:00 pm

-

11:00 pm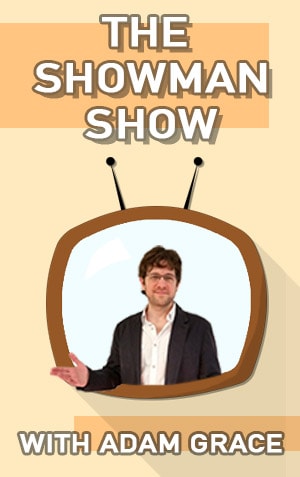 If you've seen Adam Grace perform, you know he has a rare gift for creating unexpected surprises—with climaxes you would NEVER see coming…
At Adam Grace's new upcoming event, he's going to share a 'pet' routine he's featured in every performance in the close-up room at Hollywood's world famous Magic Castle.
I've seen Adam use this to create a massive sensation on many occasions—and you're about to discover a miracle routine you're audiences will LOVE!
Introducing Adam Grace's…
Professional 'Cards Through Table'!
If you're hungry for a multi-phase close-up routine that combines visual magic and surprises with an offbeat premise that's PROVEN to win over every crowd, look no further!
The Grace 'Cards Through Table' turns the classic plot on its ear by causing the pack to VISUALLY penetrate the table in three stages of escalating astonishment.
That's right! Your audience actually sees the cards melt through the table. The closer they watch, the more astonishing the effect becomes.
Each surprising visual effect builts on the last—until finally, the audience is left with no solution—other than real magic.
And in this case—the effect itself is just the beginning. This is one of Adam's most treasured routines for VERY good reasons:
* Original Magic - even if your audience has seen a lot of magic, they've never seen anything like this before. After they see you perform this trick, they'll KNOW you're truly one-of-a-kind!
* Thunderbolt Closer - Packs a surprise finish that's so strong—it can act as a closer for even the most important show! 
* Easy-to-Do - There's only one simple 'move' (if you can call it that) that makes this trick work. That means you can learn this trick in no-time, and start using it to make miracles right away!
* Impromptu Too - So whether you have your own deck, or you want to borrow one, you're ready to do this pro-caliber routine anytime there's a deck and a table!
* Built-In Presentation Powerhouse - It's rare to find a great trick that comes with a truly captivating presentation built-in. When you hear the 'story' Adam uses to power his routine, you'll be thrilled at the chance to make it your own!  
Adam has a created a masterclass in powerful structure and built-in misdirection. And in this incredible event, Adam will share it all. You'll discover the methods, and moments and the automatic misdirection that ensures your audience will experience a true miracle.
Don't miss "Cards Through Table", hosted by master magician Adam Grace and the Conjuror Community Team!
Where: Conjuror Community Live
When: October 3rd @ 10:00 pm - 11:00 pm EST
(Note: Conjuror Community Members get to attend this event at no charge.)
Conjuror Community Members please
login
to see the registration button.