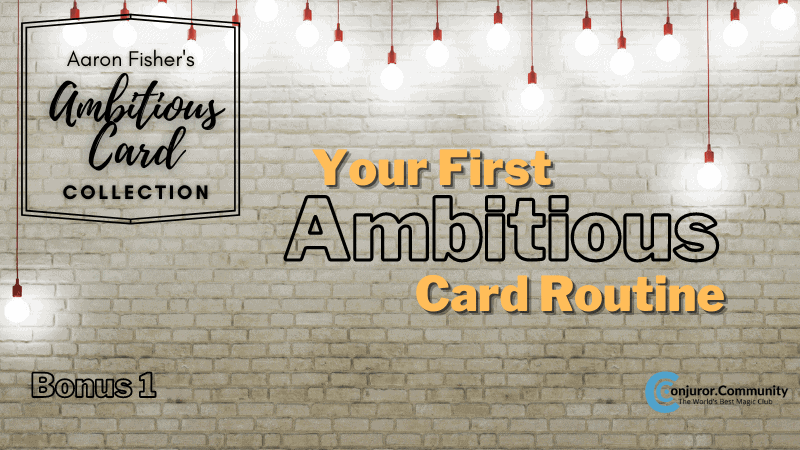 -Your First Ambitious Card Routine
Participants consistently vote this the strongest, easiest to master Ambitious Card. As you'll see, it strikes the perfect mix of audience impact and easy execution.
In this AP, you'll fundamental training on every aspect of the most popular effect in the history of card magic.   This four-phase Master Alpha Routine has been distilled from our Ambitious Card Suite of 3 Amazement Plan.
This AP is geared toward beginning and intermediate participants – and anyone looking for a 'quick-start' approach. This training will give you the quickest path we've every found to a powerful, astounding Ambitious Card Routine.
Getting the Most Out of This Amazement Plan (Click to Open & Close)
Welcome to Your Amazement Plan
If you are a member of Conjuror.Community, feel free to post your questions about this Amazement Plan (or any of your magic) and the CC Team will answer them during the next Live Event.  Members can post questions and check out dates and times in our "Calendar" section.
Here's how to get the most out of the content in this Amazement Plan:
Watch the entire AP once - Look through this entire AP and watch the videos. Don't execute on the steps until you have finished watching the entire AP.  This will help you "scope" the plan, understand the progression of the steps, and put them into context.
Complete the steps - This Amazement Plan is a checklist.  Each step builds upon the next.  Complete each step in order and follow along with the tutorials while you build amazing skills and develop Alpha Class Magic!
How to Use Your Amazement Plan

Course Sections - An Amazement Plan is a series of steps that lead to a completion of milestones and achievements.  In this AP, there are main milestones that break the plan into smaller segments. When you finish with a Course Section, you will have acquired new skills and you will be ready to move to the next section.
Course Steps - Each Course Section contains multiple steps.
The Plus Buttons- Use the Plus Buttons to open and close the Course Steps in the Amazement Plan.
Introduction (Click to Open)
2 - Assemble the Basic Routine
Performance (Click to Open)
2 Phase Core Sequence (Click to Open)
Phase 3: Awesome-sauce (Click to Open)
The Big Finish (Click to Open)
Moving Forward (Click to Open)
What's Next? (Click to Open)
Congratulations! You've just assembled one of the most magical approaches to the most enduring card effect in history.
Now what?
If you're ready to create your own Ambitious Card Routine, check out our 3 Amazement Plan Suite devoted to Advanced Ambitious Card Training:
Ambitious Card Openers - Discover easy to master methods that work perfectly in the initial stages of any Ambitious Card Routine.
Ambitious Card Centerpieces - This AP is filled with the phases, strategies and tactics that drive the second act of powerful Ambitious Card Routines.
Ambitious Card Endgames - Time tested Climaxes to bring your personal Ambitious Card routine to a spectacular finish.