Threesome
November 1, 2017 @ 10:00 pm

-

11:00 pm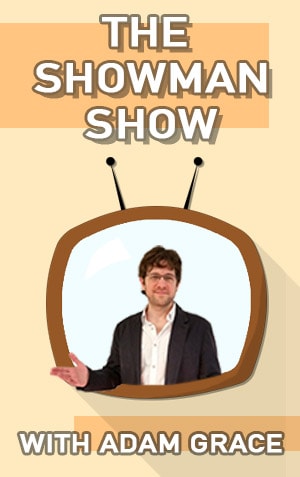 Adam Grace is a master magician who knows the value of a good secret. Lucky for us, he also knows when it's time to share with friends!
And in this special edition of the Showman Show, you'll get 3 on 1 action with Threesome!
Over the last 20 years, Adam has wowed audiences all over world under every circumstance you can imagine. And one of the main secrets to his success has always been his rare ability to choose tricks that hide a special secret.
You see, while most of us pick close-up tricks and stand-up tricks, Adam Grace has a special obsession for visually stunning tricks that actually go both ways!
And in Threesome, Adam is going to share with you 3 of his longtime favorites. Each one is packs so small, you can take it with you anywhere…
...and plays so big, you can astonish ANY size crowd!
Have you ever been asked to perform for a large crowd and been forced to refuse because you've only brought close-up magic?
It's a terrible feeling! And we've ALL been there. But once you experience this incredible Threesome, your magic will never be the same again.
Once you have these tricks in your pocket, you'll be ready to take all comers!
At this event, you'll discover:
* Visual Magic, so whether you find yourself surrounded, or on a ballroom stage, everyone in the room will get your full effect!  
* Practical Effects that Fit in your Pocket that are actually easy to do, so you'll be ready to say 'YES' to any performance invitation that comes your way (without wondering whether you have the material you really need to deliver a punch)!
* Great Magic without Cards and Coins, so you'll always be able to perform a fantastic variety of effects, and you'll never again have to hear that dreaded question, "Do you do anything besides cards?"
At this edition of the Showman Show, Adam is going to show you 3 incredible, visual miracles - and share each and every detail you'll need to add these tricks to YOUR act right away.
At this Showman Show, you're in for an incredible amount of secret information about real world performing you won't hear anywhere else.
And after Threesome, you'll have everything you need to share Adam's favorite miracles with your audience's -- ANYTIME you want to perform!
Don't miss this one-time event! Join us for "Threesome" hosted by master magician Adam Grace and the Conjuror Community Team!
Where: Conjuror Community Live
When: November 1st @ 10:00 pm - 11:00 pm EST
Price: $20/ Advanced Tickets
(Note: Conjuror Community Members get to attend this event at no charge.)
Conjuror Community Members please
login
to see the registration button.
If you are not a Conjuror Community Member, you may purchase your ticket by clicking the button below:
BUY A TICKET
Join the world's best magic club and get unlimited access to all our exclusive events. Learn how...