Pro Audio for Professional Performers
January 16 @ 10:00 pm

-

11:00 pm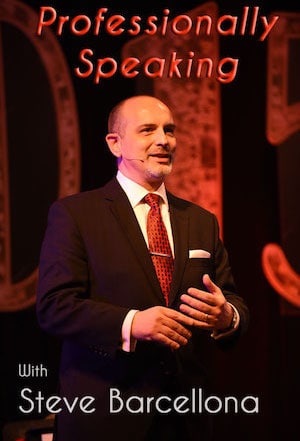 What is 'Pro Audio for Professional Magicians'?
In this episode of Professionally Speaking, Steve Barcellona delivers another masterclass on getting your voice out there and marketing yourself as a magician.
In fact, this time he's LITERALLY going to be teaching you how to get your voice out there
As magicians, we often underestimate the importance of having the right mics and audio software for our shows.
Imagine this…
It's your first BIG show, and you're super nervous. You have all your props set up and ready, you've rehearsed your script, and you know your tricks inside out. But there's one thing you're NOT prepared for.
When you step up on stage, the audio is TERRIBLE!
Suddenly, all your preparation and practice doesn't amount to anything, because your audience simply can't HEAR you.
Trust us, this is NOT how you want to discover the importance of audio for professional magicians!  
You need to make sure you're prepared in advance!
….and that's exactly what we'll cover in this professional workshop event—so you NEVER have to experience this yourself (or experience it AGAIN!).
If you're a magician that plans to ever perform for even a mid-sized audience (that's most of us!), you NEED to attend this event.
Adding 'audio' to your show is a MUST if you want to take your magic forward in 2019.
Why?
Anyone who plans to speak during their show needs their audio to be clean and clear. If they can't hear you, you can't entertain! Second, music can (if used wisely), HUGELY strengthen the emotional impact of your magic.
Steve Barcellona is a veteran of hundreds of stage shows, and knows precisely what steps you should take to make YOUR audio perfect.
In this event, he'll share...
*  A Complete Beginners Guide to using audio in your show. Steve will cover all the 'ins and outs' of getting set-up, and share his personal 'secret' tips to make your job easy.
* His shopping guide for the working performer. Steve will help you identify exactly what kind of sound system and mics YOU need for your show—and make sure you avoid spending too much!
* His favorite apps for magicians that want to manage their own sound. Steve will tell you everything you need to know if you want to be 'sound man' free….forever!
* ALL of Steve's inside tips, tricks, and lessons—learned from YEARS performing and refining his methods. You don't want to miss this!
In short, this event is your cheat sheet for using audio in your magic. Once you have it—you'll NEVER worry again!
Remember, most magicians have to 'fly blind'—but YOU don't need to!
This is your chance to learn everything you need to know from a master who knows EXACTLY what you need to do!
Don't miss this one-time event! Join us for "Pro Audio for Professional Magicians" hosted by master magician Steve Barcellona and the Conjuror Community Team!
Where: Conjuror Community Live
When: January 16th @ 10:00 pm - 11:00 pm EST
Price: $20/ Advanced Tickets
(Note: Conjuror Community Members get to attend this event at no charge.)
Conjuror Community Members please login to see the registration button.
If you are not a Conjuror Community Member, you may purchase your ticket by clicking the button below:
Join the world's best magic club and get unlimited access to all our exclusive events. Learn how...